POCHETTE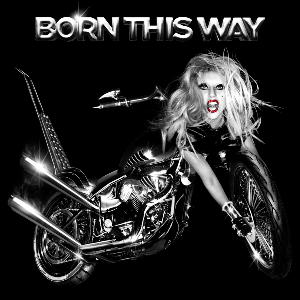 INFORMATIONS
Le troisième opus de Lady Gaga se nome Born This Way, Née de cette manière, il fut annoncé aux MTV Music Awards, le 12 septembre ! La chanteuse le décrit comme "le meilleurs album de la décennie" Elle prétend que cet album sera meilleur que the fame, et the fame monster !
La veille de 2011, Gaga dévoile la date de sortie de l'album, le 23 mai 2011, ainsi que celle du single du même nom, le 13 février 2011, ainsi qu'une image promotionnel, ou Gaga est de dos, dans un salon sombre, ne porte aucun sous vêtement, mais une veste en cuir, avec inscrit dessue "Born This Way"
L'album contient des chansons dans différentes langue, dont l'allemand !
Le 15 Avril, Gaga dévoila la pochette de l'album, sur laquelle, on voit la tête de la star, sur une moto, avec écrit en lettres argentées brillantes "Born This Way". La version deluxe, elle, est la même, sauf qu'on ne voit que la tête.
Indirectement, FunRadio a organisé une rencontre entre 20 fans français et Gaga, pour écouter avant tout le monde Born This Way !
La tracklist entière fut dévoilée le 2 mai, via twitter. Les chansons, eux furent tous dévoilé le 18 Mai.
Le Pack Collector, lui, contient un poster fait avec des photos de fans, une carte donnant accès à des offres, 9 disques contenant un message de Gaga, une boite, et un T-shirt.
L'édition spéciale démarra très bien, N°1 dans tout les pays de sa sortie, à l'exception des Pays-Bas ! Pour l'édition normale, le succès sera un peu moins élever ! L'album se classa directement N°1 du Billboard 200
Beaucoup de chanson font allusion à Luc Carl (Judas, Heavy Metal Lover, Marry The Night...) Les raisons sont indiquées dans les articles !
TRACKLIST
CD1

Marry The Night (Epouser la nuit)

Born This Way (Née comme ça)

Government Hooker (Putain de Gouvernement)

Judas (Judas)

Americano (Americain)

Hair (Cheveux)

Scheiße (Merde)

Bloody Mary (Bloody Marie)

Black Jesus † Amen Fashion (Jesus noir/Amen la Mode) (Deluxe)

Bad Kids (Mauvais enfants)

Fashion Of His Love (Mode de l'amour) (deluxe)

Highway Unicorn ( Route de la licorne )

Heavy Metal Lover (Amours de Heavy Metal)

Electric Chapel (Chapelle Electrique)

The Queen (La reine)

Yoü and I (Toi et Moi)

The Edge Of Glory (Le bord de la gloire)




CD 2 (Deluxe)

Born This Way – Country Road Version (deluxe)

Judas – DJ White Shadow (deluxe)

Marry The Night – Fernando Garibay (deluxe)

Scheiße – DJ White Shadow (deluxe)

Fashion Of His Love – Fernando Garibay (deluxe)