POCHETTE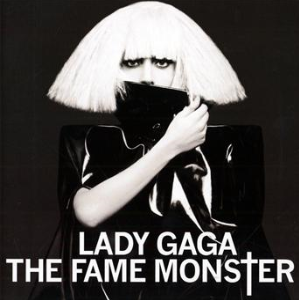 INFORMATIONS
Le deuxième album de lady gaga, commercialisé le 18 novembre 2009.
Normalement simple réédition de the Fame, lady gaga annonce en automne que de nouvelle chanson, meilleur que les dernière, entrerons dans cet album !
L'album parle du mauvais cotés de la gloire. Ces chansons représente ses peur sous métaphore d'une créature sortit de son esprit détraqué !
La diva compare the Fame et the Fame Monster comme le yin et le yang, l'un joyeux, l'autre sombre...
Il s' est forgé une place parmi les meilleurs vente de beaucoup de pays !
L'album fut l'album le plus vendu de l'année 2010 !
TRACKLIST
Bad romance (Mauvaise amours)
Alejandro (Alexandre)
Monster (Monstre)
Speechless (Sans voix)
Dance in the dark (Dancer dans l' ombre)
Téléphone feat. Byoncé (Téléphone)
So Happy I Could Die ( Si heureuse que je pourrais mourir)
Teeth (Dents)